Do you love pour-over coffee? If so, the Fellow Stagg EKG may be the perfect kettle for you. This kettle is designed to produce high-quality pour-over coffee with ease. It has several features that set it apart from other kettles on the market, including variable temperature control and a built-in timer (brew stopwatch). In this blog post, we will take a closer look at the Fellow Stagg EKG and see what makes it such a popular choice among coffee enthusiasts.
A closer look at the Fellow Stagg EKG electric
The Fellow Stagg EKG has been designed with precision in mind. It features a gooseneck precision pour spout, as well as a built-in temperature control system. This means that you can set the perfect temperature for your coffee, ensuring that each cup is brewed to perfection. The Fellow Stagg EKG also features a built-in timer, so you can keep track of your brewing time and ensure that each cup is brewed for the optimum duration.
Why choose the Fellow Stagg EKG?
There are many reasons why coffee lovers choose the Fellow Stagg EKG. The kettle's precision pour-over system ensures that each cup of coffee is brewed perfectly. The built-in temperature control system ensures that your coffee is always brewed at the ideal temperature, and the built-in timer means that you can keep track of your brewing time to ensure each cup is brewed for just the right amount of time. If you're looking for a pour-over coffee kettle that will help you make the perfect cup of coffee, the Fellow Stagg EKG is the ideal choice.
As someone who loves pour-over coffee, I can say that the Fellow Stagg EKG helps you make great coffee. The kettle is easy to use and the resulting coffee you produce tastes great! Fellow know how to make a great kettle and this shows in the Fellow Stagg EKG as it assists you in brewing the perfect cup every time.
To sum it up, the Fellow Stagg EKG is a feature-packed, beautiful kettle for those who want to make perfect pour-over coffee. The kettle is easy to use and produces great-tasting coffee. If you are looking for a kettle to help you make the best cup of coffee, then the Fellow Stagg EKG is the ideal choice.
How easy is it to use the Fellow Stagg EKG?
The Fellow Stagg EKG is very easy to use. The kettles precision pour spout for precise pouring avoids spillages and unnecessary cleanup. It has a built-in variable temperature control system and timer using a simple yet effective dial/touch user interface with an LCD screen. This means that you can set the perfect brewing temperature and keep track of your brewing time, ensuring that each cup of coffee is brewed perfectly and with ease.

The interface that controls the kettle's digital functions has been cleverly designed to be simple to use but allow quick easily accessible control of all of its great features.

Water temperature is important so how good is the Fellow Stagg EKG variable temperature control?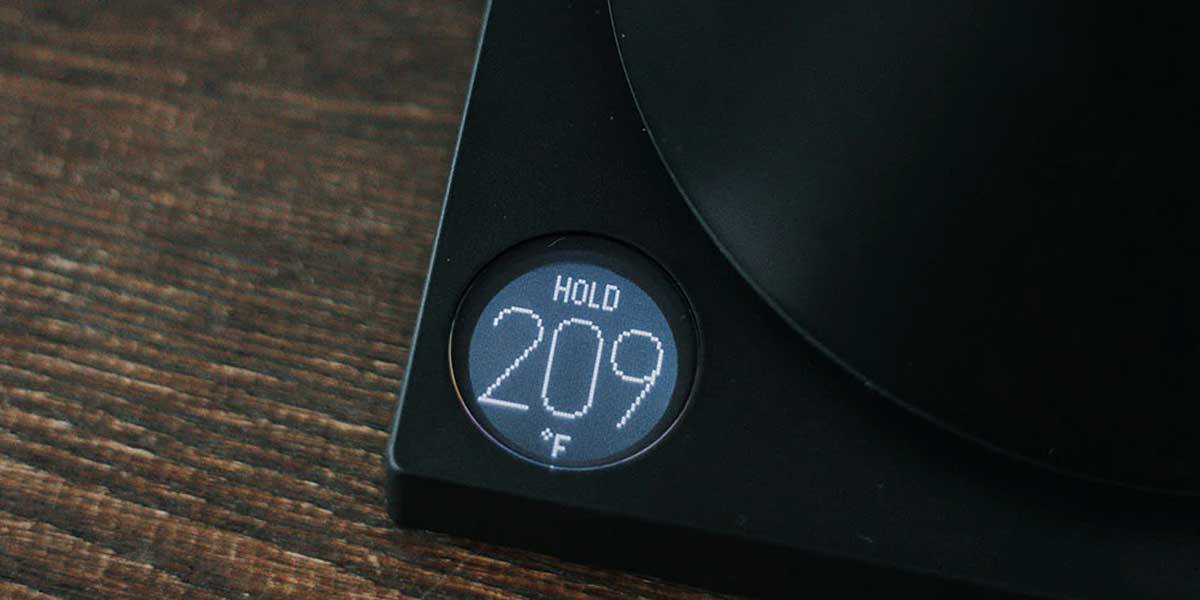 Variable temperature control is really important when trying to get the best out of your coffee beans and the Fellow Stagg EKG kettle does not disappoint. It has a maximum temperature of 204 degrees Celsius and an impressive accuracy of +/- 0.05 degrees Celsius. This means that you can be sure your water is always at the preferred setting for brewing great coffee.
The handy LCD screen allows you to see the variable temperature control settings at all times so you can achieve incredible accuracy. The display features a timer that can count down from 10 minutes which is more than enough for most brewing styles.
The temperature is held for around 3 minutes and the kettle will switch off to save energy after 15 minutes of inactivity. This is unless you select the HOLD mode. When the HOLD mode is switched on, the kettle will maintain a constant temperature for up to 60 minutes. This is perfect whilst entertaining guests or for having in the home office where one Monday morning cup is never enough!
Winner of the 2018 Red Dot Design Award
The Fellow Stagg EKG was awarded the 2018 Red Dot Award for Product Design, which is one of the most prestigious awards in the design world. This award recognises products that are not only aesthetically pleasing but also have outstanding functionality. The Fellow Stagg EKG was recognised for its beautiful design and innovative features, making it a worthy winner of this prestigious award.
Can a kettle be this handsome?

We weren't sure until we saw the Fellow Stagg EKG of course! This kettle is not only incredibly functional but also looks beautiful in your brewing setup thanks to its modern minimalist design. We can see why it's award-winning and loved so much by so many.
We've tested lots of pour-over kettles and have often found a compromise between design and functionality but the Fellow Stagg EKG really hits the nail on the head, offering great looks and top-notch performance.
Putting the Fellow Stagg EKG to the test - is this the pour over kettle perfected?
We put the Fellow Stagg EKG through its paces to see if it is the best pour-over kettle on the market and here's what we thought:
When you first remove the Fellow Stagg EKG from its packaging you can feel the exceptional build quality. We were impressed at how they'd carefully crafted the stunning design yet solid feel whilst keeping the overall weight down.
When filling the kettle, we had no complaints, the lid removes easily and you can fill it to around 0.9L which isn't a huge amount of capacity but it's good for 3-4 cups or 2-3 good-sized mugs.
For our boil test, we filled the kettle to around halfway with 0.45L of water and began boiling water to our preferred setting of 96°C - a perfect temperature for pour-over coffee. It took around 2 minutes 45 seconds to reach this desired temperature which wasn't bad although not a blazing fast heat time. What really impressed us though was the magic of the Fellow Stagg EKG's ability to maintain that temperature. With the HOLD mode activated, we saw very little fluctuation in the desired temperature throughout the whole 60-minute period.
There appears to be a clever use of materials and coatings to help maintain that desired temperature and regulate the impact of environmental temperatures around the kettle which is pretty impressive. It all helps to maintain ultimate control over what matters most from this kettle - its ability to hold the heat.
After reaching the optimum temperature of 96°C we went ahead and started pouring. The flow rate of the gooseneck spout was impressively controllable. Whether it's a drip or a steady flow you're able to control the rate at which you pour water to a tee. The flow is somewhat limited when you want a 'fast pour' but given the capacity of the kettle and its purpose, we think it's quite good.
With a steady flow of water, we found brewing with a ceramic V60 dripper a breeze! You can really saturate the coffee grounds and then let the water drain away evenly which makes for a ridiculously good cup! The built-in brew stopwatch takes the guesswork out of perfection so you'll be a coffee aficionado in no time!
There's a worm in my kettle!
Yep, you heard us right! There really is a worm in there, although luckily it's not something you'd find in the garden. Fellow have injected a little fun into the process of watching water boil with a game called 'Wormy' that's reminiscent of the 90's mobile game 'Snake'. You can activate this hidden little easter egg by following the instructions below. Be warned though! It's incredibly addictive and can result in some pretty lengthy brew times!
Activate Wormy mode:
- Turn on your kettle on
- Take your kettle off the base
- Toggle the F/C switch back and forth
- When Wormy appears on the screen, use the dial as your joystick.
Deactivate Wormy mode:
- Press and hold the 'HOLD' button for five seconds
- The display will show 'Wormy Mode Off'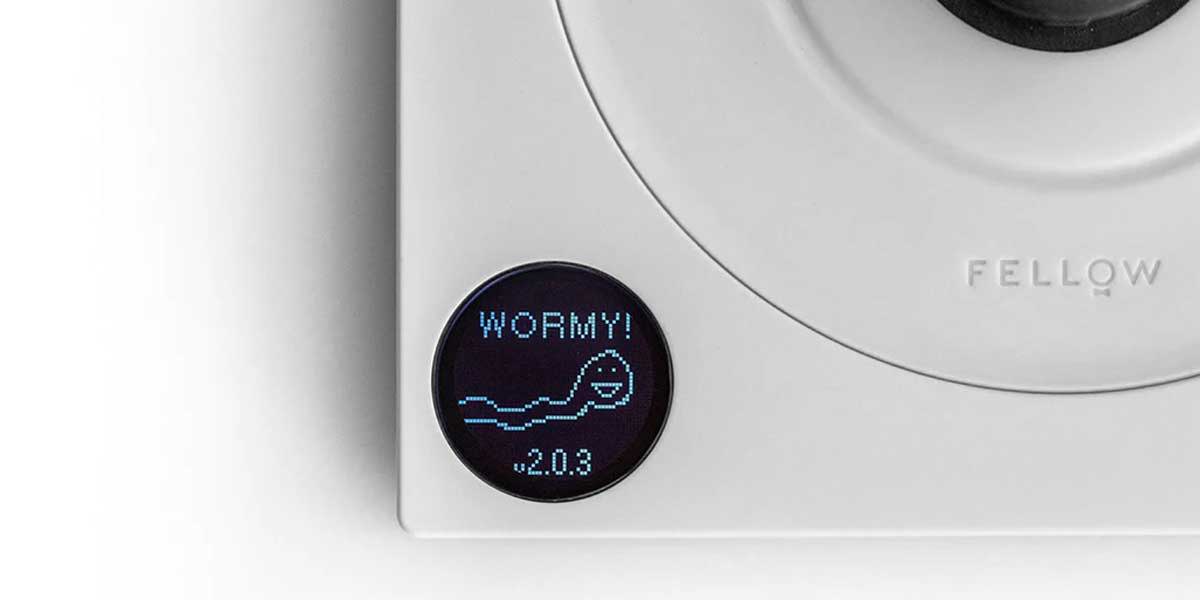 We think Fellow have done an excellent job with the Stagg EKG. It's a great all-rounder that'll suit any coffee lover, whether you're a brewing beginner, an experienced barista, or a world brewing champion. It's got all the features you need and more, plus it looks great too!

So if you're looking for a pour-over coffee kettle that will help you make the perfect cup of coffee, the Fellow Stagg EKG is the ideal choice. Order yours today and start enjoying perfect pour-over coffee at home.
Thanks for reading! We hope this blog post has helped you in your search for the best pour-over coffee kettle.